Website Redesign & Content Development for a Real Estate Firm
 •  55+ REAL ESTATE SERVICES  • 
55+ Real Estate Services is a real estate firm that specializes in providing services and assistance for 55+ individuals. Founded in 2019, 55+ Real Estate Services and each of its certified Seniors Real Estate Specialists (SRES) aims to provide comprehensive packages to assist with all aspects of the home buying and selling process. This includes moving, downsizing/rightsizing, setting up estate sales, and much more.
Website Development, Content Development
55+ Real Estate Services' website required a more stripped back approach to its overall visual aesthetic. We implemented brand colors throughout the site, accenting them with photos of homes and scenery evocative of the Pacific Northwest. This allowed for maximum accessibility and easy navigation while still offering a pleasant visual experience.
For content, we performed extensive industry research into real estate and SRES organizations at both a local and national level. We then created in-depth writing prompts for 55+'s team to use as they wrote the initial drafts of the content. Our team then took the content developed by 55+ Real Estate Services and performed extensive edits and optimization to ensure a consistent tone, focus, and overall clarity regarding their services and resources.
Offering a wealth of information for prospective home buyers and sellers of all ages in an accessible intuitive UI, 55+ Real Estate Services' website provides an enjoyable and informative user experience.
55+ Real Estate Services' website features:
A streamlined highly accessible user interface

Implementation of branded colors and photography

Full Integration of WolfNet IDX Feed

City specific landing pages featuring localized listings

Detailed optimized content for each main service

Clear, consistent, and simple navigation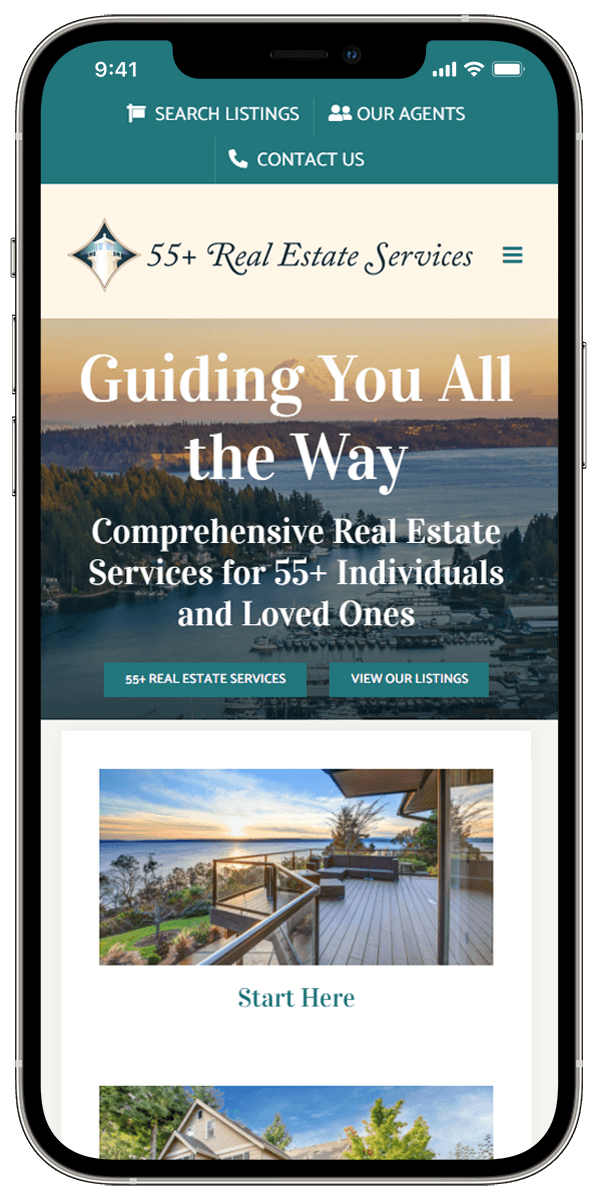 See How We've Helped Our Clients
.
Michael McKellar
The Sterling Inspection Group, Inc. is an InterNACHI certified Residential and Commercial property inspection company.
Michael McKellar
Sentinel Pest Control is a locally owned and operated full-service pest control company. The company has been providing residential and commercial pest control services to the greater Puget Sound area since 1998.
Michael McKellar
Oak Harbor Freight Lines is a family-owned and operated LTL Freight carrier that provides direct service to California, Idaho, Nevada, Oregon, and Washington.
Michael McKellar
The Sterling Inspection Group, Inc. is an InterNACHI certified Residential and Commercial property inspection company.
What Our Clients Say About Us
.
From our first meeting with Counterweight Media, I was highly impressed with the professionalism and knowledge. Our Website is everything they promised and more…
We used Counterweight Media for a complete website build. They did an awesome job and were extremely helpful throughout the process. I would recommend them to anybody looking for a fantastic site!…
We opted for an entire overhaul of our site from the ground up. They worked with us on a payment plan and were patient and helpful throughout the entire development process. We clicked right away even before the creative process began. We are thrilled with what they have put together for us and it is already paying dividends…
We had Counterweight media design our website from scratch. They created all of our website content, they came on site and shot a video for us, they created all of our images and put it all together into a complete website that converts visitors into paying customers…
Counterweight Media makes sure you're informed and on top of everything. They designed and created our website and we couldn't be happier. If you're on the fence or having doubts, don't think twice! Counterweight Media is the right choice!…
They designed our business web page and created an amazing video that we have used for marketing and social media. I have had a ton of compliments on our website on how beautiful it is and how easy to navigate it is.