Website Design & Content Development for a Home Inspection Company
.
 •  THE STERLING INSPECTION GROUP, INC.  • 
The Sterling Inspection Group, Inc. is an InterNACHI certified Residential and Commercial property inspection company. Based in Puyallup, WA , Sterling has been providing residential, commercial, and specialized property inspection services to the greater Puget Sound area since 1999.
Website Design, Content Development, Photography
Updating Sterling's content was the first step before we could launch into the visual design. Much of Sterling's original website content was sparse, consisting primarily of bulleted lists. We spent several days performing extensive keyword research as well as research into the home inspection industry and InterNACHI's Policies and Standards. We then created a comprehensive sitemap and detailed writing prompts for new detailed service pages to help guide Sterling's writing team. Once the content was completed, our editing team went to work.
Once we had the completed content, the visual design came very intuitively. Though they had not updated their online marketing, Sterling had updated a great deal of their physical marketing collateral. We used Sterling's newer brochures and client folders as a visual guide, implementing their branded colors, and fonts into the website. We also did a full on-site and staff photoshoot and updated the photos for their blogs to higher resolution versions of the stock images Sterling had previously featured.
Sterling's new website offers extremely detailed in-depth resources regarding their inspection services and processes in a consistently branded package. It evokes a sense of professionalism and quality while still providing an accessible and enjoyable user experience. The effort put into optimizing their content not only provides more value to their customers and staff, but also puts them in a better position for successful future SEO efforts.
The Sterling Inspection Group's website features:
A streamlined top menu and navigation with a Services Mega Menu

Branded colors, font, and logo

Edited onsite and staff photography

New service page and inspection page content

Custom job application form

Integration of proprietary scheduling software

Contact form

Mobile responsive

Blogs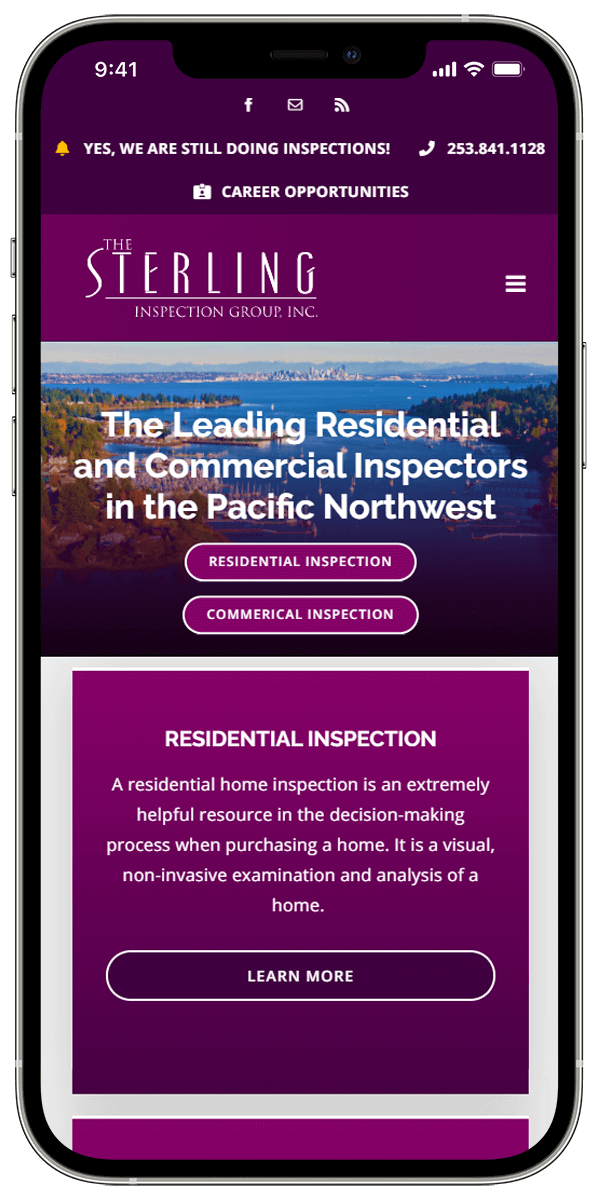 See How We've Helped Our Clients
.
Michael McKellar
The Sterling Inspection Group, Inc. is an InterNACHI certified Residential and Commercial property inspection company.
Michael McKellar
Sentinel Pest Control is a locally owned and operated full-service pest control company. The company has been providing residential and commercial pest control services to the greater Puget Sound area since 1998.
Michael McKellar
Oak Harbor Freight Lines is a family-owned and operated LTL Freight carrier that provides direct service to California, Idaho, Nevada, Oregon, and Washington.
Michael McKellar
The Sterling Inspection Group, Inc. is an InterNACHI certified Residential and Commercial property inspection company.
What Our Clients Say About Us
.
From our first meeting with Counterweight Media, I was highly impressed with the professionalism and knowledge. Our Website is everything they promised and more…
We used Counterweight Media for a complete website build. They did an awesome job and were extremely helpful throughout the process. I would recommend them to anybody looking for a fantastic site!…
We opted for an entire overhaul of our site from the ground up. They worked with us on a payment plan and were patient and helpful throughout the entire development process. We clicked right away even before the creative process began. We are thrilled with what they have put together for us and it is already paying dividends…
We had Counterweight media design our website from scratch. They created all of our website content, they came on site and shot a video for us, they created all of our images and put it all together into a complete website that converts visitors into paying customers…
Counterweight Media makes sure you're informed and on top of everything. They designed and created our website and we couldn't be happier. If you're on the fence or having doubts, don't think twice! Counterweight Media is the right choice!…
They designed our business web page and created an amazing video that we have used for marketing and social media. I have had a ton of compliments on our website on how beautiful it is and how easy to navigate it is.