Website Design & Media Production for a Product Company
.
L!NK Systems LLC are the designers and creators of L!NK Lanyards, the first-ever universal magnetic phone lanyard. Founded by owner/creator Paul Muller in 2014, the company spent several years refining and redesigning their patented magnetic lanyard until they officially launched in May of 2018. The lanyards, which are made out of a high-quality nylon material with a twill embroidered patch and stainless-steel D-ring, come in a variety of colors and are now shipping worldwide.
Website, Content Development, Photography, Video Production, Audio Production
For the product photos, we wanted to convey the lanyard's construction while also showing off its functionality. We took and edited multiple sets of photos showing the lanyard and its components, highlighting its profile both separate from and attached to a phone. We also took photos of all currently available Lanyard color variations as well as the product boxes.
For L!NK's video ad, we wanted to touch more on its practical application. We did multiple video shoots over the course of several days for L!NK's video ad, capturing the lanyard being used in various situations including traveling, dog walking, boating, cooking, and gardening. We kept the ad quick and upbeat while still having smooth stylized transitions. For the sound design, we chose to emphasize the click created when the lanyard connects to its magnetic base, synching the click up with the snare of the backing track.
For the design of L!NK's website, we wanted to emulate the stylistically minimalist packaging for their products. As such, final visual design is similarly minimalistic, implementing branded bold black text against a white and gray background. This served to not only convey a sense of high quality similar to upscale car manufacturers, but also allowed the vibrant colors of the product photos to really stand out. We also created a fully integrated online store.
L!NK's original website had little written content, with only 677 words total for the entire site. As such, we had a lot of room to expand upon and further develop their content. The new page content we created was made with the sole intention of better highlighting the product's design, construction, functionality, and utility. We also created detailed content for the individual product pages including product descriptions, technical specification, application instructions, and warranty information.
L!NK Lanyard's new website and marketing collateral all display major improvements over what they had. Their website is slick, clean, and easy to navigate and their online store features the type of polished product photography consumers would expect from other larger distributors. Furthermore more, the brand consistency between their product photos, website, and advertisements is higher than it has ever been.
L!NK Lanyard's website features:
Streamlined simple top navigation and footer

Branded colors, fonts, and imagery

Implementation of edited onsite photography

Fully functional online store

Integration with ShipStation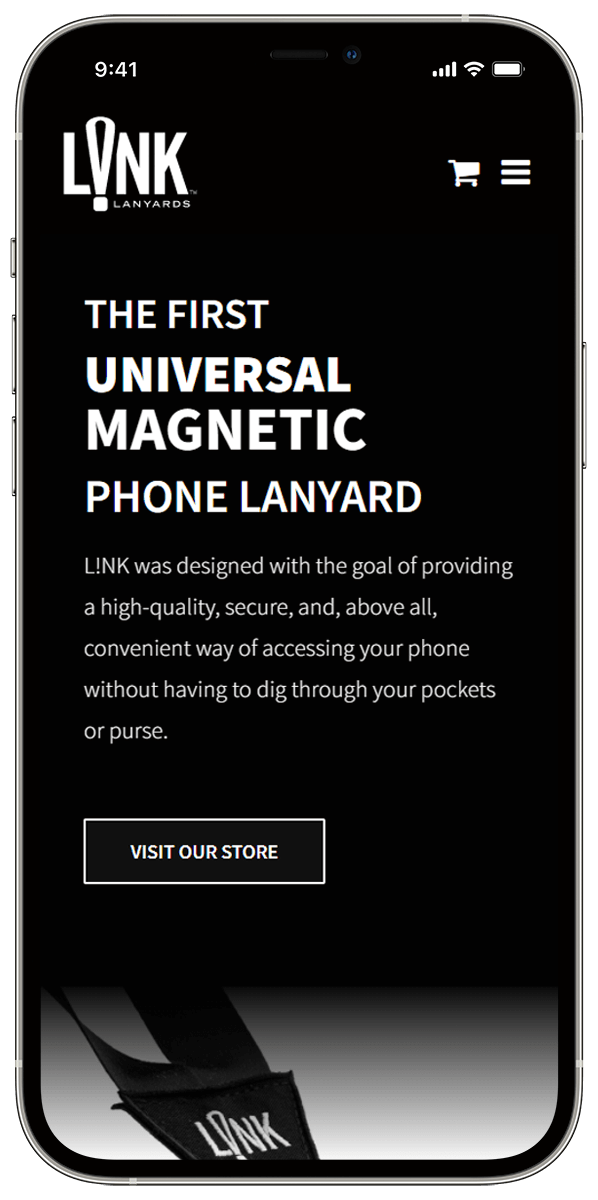 See How We've Helped Our Clients
.
Michael McKellar
The Sterling Inspection Group, Inc. is an InterNACHI certified Residential and Commercial property inspection company.
Michael McKellar
Sentinel Pest Control is a locally owned and operated full-service pest control company. The company has been providing residential and commercial pest control services to the greater Puget Sound area since 1998.
Michael McKellar
Oak Harbor Freight Lines is a family-owned and operated LTL Freight carrier that provides direct service to California, Idaho, Nevada, Oregon, and Washington.
Michael McKellar
The Sterling Inspection Group, Inc. is an InterNACHI certified Residential and Commercial property inspection company.
What Our Clients Say About Us
.
From our first meeting with Counterweight Media, I was highly impressed with the professionalism and knowledge. Our Website is everything they promised and more…
We used Counterweight Media for a complete website build. They did an awesome job and were extremely helpful throughout the process. I would recommend them to anybody looking for a fantastic site!…
We opted for an entire overhaul of our site from the ground up. They worked with us on a payment plan and were patient and helpful throughout the entire development process. We clicked right away even before the creative process began. We are thrilled with what they have put together for us and it is already paying dividends…
We had Counterweight media design our website from scratch. They created all of our website content, they came on site and shot a video for us, they created all of our images and put it all together into a complete website that converts visitors into paying customers…
Counterweight Media makes sure you're informed and on top of everything. They designed and created our website and we couldn't be happier. If you're on the fence or having doubts, don't think twice! Counterweight Media is the right choice!…
They designed our business web page and created an amazing video that we have used for marketing and social media. I have had a ton of compliments on our website on how beautiful it is and how easy to navigate it is.