Social Media Marketing & Brand Development for a Not-For-Profit Film Festival
.
 •  GIG HARBOR FILM FESTIVAL  • 
Started in 2007, the Gig Harbor Film Festival is a not-for-profit organization based out of Gig Harbor, Washington comprised of both full-time staff and volunteers. Outside of their annual independent film festival, they also hold an annual 72-Hour Film Competition which invites members of all ages from the Gig Harbor community to participate in the art of filmmaking.
Social Media Marketing, Brand Development, Corporate Photography, Video Production
Gig Harbor Film Festival's main points of concern were two things: awareness and consistency. Despite having additional community driven events throughout the year, public visibility and online engagement with the organization outside of its cornerstone annual events was very low. Compound this with the influx of new volunteers and members as well as inconsistent social media publishing and the need to maintain a consistent aesthetic and voice regarding their marketing became apparent.
We developed Gig Harbor Film Festival's Content Marketing Blueprint. This fully comprehensive document outlines every single aspect of the Gig Harbor Film Festival brand, from their logo design and official fonts/color palette to detailed guidelines for layout, photography, and editorial style. It also provides detailed profiles of potential patrons, providing insight into the cultural/communal makeup of Gig Harbor Film Festival's potential patrons.
For their social media strategy, we developed content and a corresponding publishing calendar outlining where, when, and what content would be published on a weekly basis. This content was developed with the intention of highlighting local events, the organization's website, and raising overall awareness of the organization's community involvement prior to the annual festival. This served to keep engagement, activity, and reach consistent during their off season which in turn enabled it to perform much better during event season.
Gig Harbor Film Festival's overall branding consistency and online awareness in the year leading up to their 2018 film festival improved drastically over the previous year. Their social media reach greatly increased, seeing their average Facebook reach go from nothing to 5000-10,000 people organically per month. This has made their boosted posts even more effective, allowing them to reach on average over 30,000 people monthly.
During the final leg of the promotion cycle for their 2018 Film Festival, Facebook showed a total reach of 32,569 people with 10,860 engagements between August 21, 2018 – September 17, 2018. This with the Content Marketing Blueprint have provided them a comprehensive framework within which the organization can effectively and consistently create content specifically tailored to their target audience.
 •  REAL-TIME EVENT RESPONDING •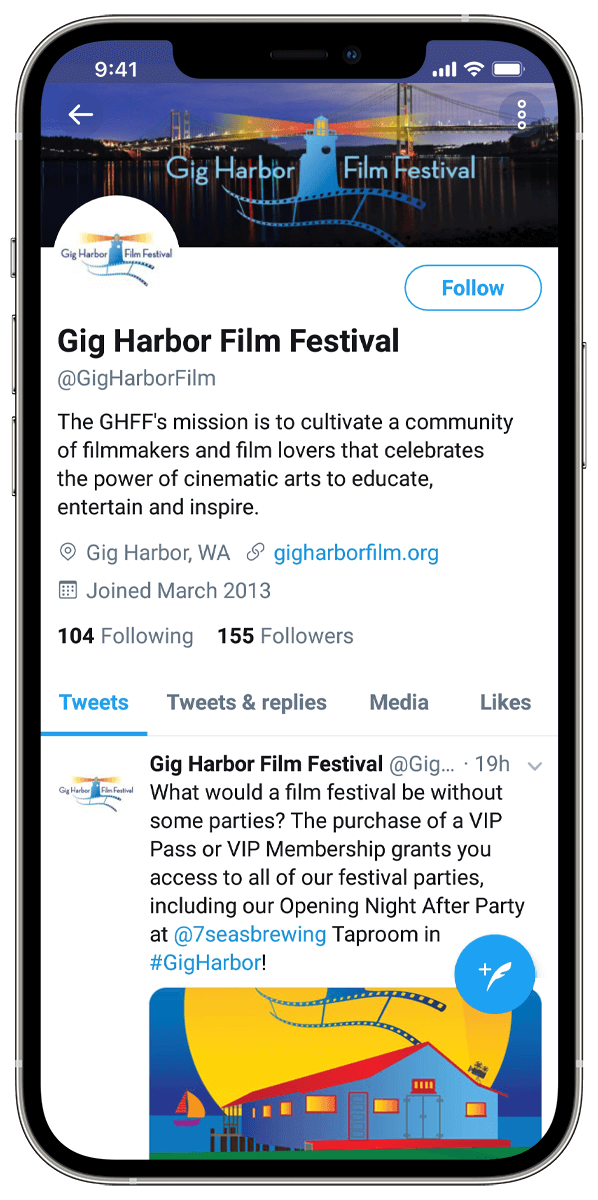 See How We've Helped Our Clients
.
Michael McKellar
The Sterling Inspection Group, Inc. is an InterNACHI certified Residential and Commercial property inspection company.
Michael McKellar
Sentinel Pest Control is a locally owned and operated full-service pest control company. The company has been providing residential and commercial pest control services to the greater Puget Sound area since 1998.
Michael McKellar
Oak Harbor Freight Lines is a family-owned and operated LTL Freight carrier that provides direct service to California, Idaho, Nevada, Oregon, and Washington.
Michael McKellar
The Sterling Inspection Group, Inc. is an InterNACHI certified Residential and Commercial property inspection company.
What Our Clients Say About Us
.
From our first meeting with Counterweight Media, I was highly impressed with the professionalism and knowledge. Our Website is everything they promised and more…
We used Counterweight Media for a complete website build. They did an awesome job and were extremely helpful throughout the process. I would recommend them to anybody looking for a fantastic site!…
We opted for an entire overhaul of our site from the ground up. They worked with us on a payment plan and were patient and helpful throughout the entire development process. We clicked right away even before the creative process began. We are thrilled with what they have put together for us and it is already paying dividends…
We had Counterweight media design our website from scratch. They created all of our website content, they came on site and shot a video for us, they created all of our images and put it all together into a complete website that converts visitors into paying customers…
Counterweight Media makes sure you're informed and on top of everything. They designed and created our website and we couldn't be happier. If you're on the fence or having doubts, don't think twice! Counterweight Media is the right choice!…
They designed our business web page and created an amazing video that we have used for marketing and social media. I have had a ton of compliments on our website on how beautiful it is and how easy to navigate it is.